Ethereal Chrysalis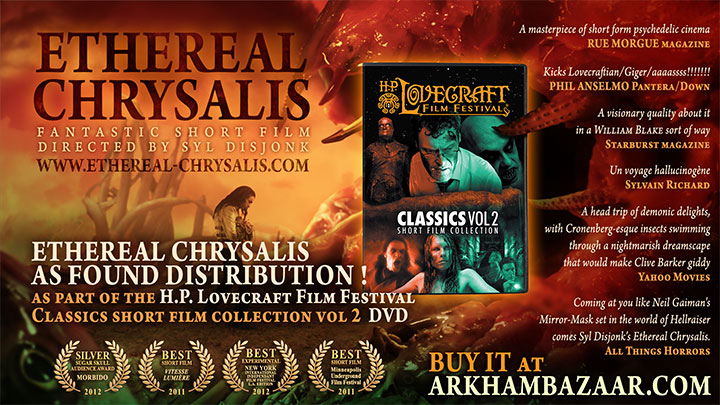 The award winning short film Ethereal Chrysalis is now officially distributed as part of the H. P. Lovecraft Film Festival Classics Vol 2 DVD.
Short Films on this volume:

• "Dagon" - director Richard Corben
• "Antiques Roadshow: Arkham" - director Jon Cazares & Joseph Scrimshaw
• "Eel Girl" - director Paul Campion
• "In[B]etween" - director Jose Luis Martinez Diaz
• "Ethereal Chrysalis" - director Syl Disjonk
• "From Beyond" - director Michael Granberry
• "Doctor Glamour" - director Andrew W. Jones
• "The Shunned House" - director Eric Morgret
• "The Professor" - director Casey T. Malone
• "Nyarlathotep" - director Christian Matzke *
• "hp Apology" - director Thomas Nicol
• Bonus Materials - Trailer for "The Call of Cthulhu" (2005), "Transcendent" (2012), a selection of photos & past guests from HPLFF history.
You can order the DVD here:
https://arkhambazaar.com/films/h-p-lovecraft-film-festival-classics-vol-2-dvd/
Surreal fantastic short film recalling the universe of H.P. Lovecraft.

Ethereal Chrysalis official website : www.ethereal-chrysalis.com
Running time: 10 min.
Language: No dialogue
Shooting format: RED 4K
Genre: Fantastic
Year: 2011
Written and directed by Syl Disjonk
Assistant director : Carnior
Produced by Syl Disjonk & Igor Simonnet
Director of photography: Martin McKay
Original music: Martin Gauthier
Sound Designer: Keith McMullen
Art direction by : Véronique Poirier
Cast
Syl Disjonk:  Traveller, sleeping giant, schizophrenic & mutant
Raynald Lapierre: Psychic alchemist
Special Effects:
Eric Thivierge
Crush and Blush Studio
www.CrushAndBlushStudio.com
On-set special effects artist, mutant full body makeup, ectoplasmic larva & organic ball
Remy Couture
www.RemyFX.com
Prosthetic head, chrysalis, organic ground,
head & face molding
Jean Pronovost
www.JeanPronovost.com
www.Creations-JeanPronovost.com
Crab creature & prosthetic face
Editing: Syl Disjonk
Visual Effects
Syl Disjonk
Compositing, matte painting & vfx
Eric Bilodeau
Compositing, matte painting & vfx
www.Fictis.net
Costume Design :
Veronique Poirier
Marie-Christine Gagnon
Pre-production manager: Elene Dallaire
Makeup:
Eric Thievierge
Isabelle Lapierre
Set design Veronique Poirier & Carnior
Set builders
Veronique Poirier
Carnior
Jean Pronovost
Myriam St-Laurent Rioux
Igor Simonnet
Pierrot Neron
Andrei  Saavevra
Stephane Desaulnier

Sound mixer: Keith McMullen
Foley recorder: Keith McMullen
Foley supervisor: Keith McMullen
Foley artist: Pierrot Néron
Creature screams & sounds: Youri Raymond
Camera Assistant: Alexandre Bouchard
Production Assistant: Dany Etcheverry
Gaffer: Alexandre Gazé
Electrician:
Pascal Doiron
Pierrot Néron
Camera:  ZAPIMAGE
Equipment: CINEPOOL 
Crab creature animators:
Veronique Poirier, Pierrot Neron, Jean Pronovost,
Igor Simonnet, Pascal Doiron
Sleeping giant photo-shoot
Photographer: Martin McKay
Assistant photographer: Dany Etcheverry
Make-up Artist: Jean Pronovost - Remy Couture
Macro photography for matte painting: Serge De Cotret
Set Photographer day 3: Samuel Martin
Craft: Isabelle Lapierre
Molding assistants: Nathalie Mai Duong & Marjorie Imbeault
Storyboard artist: Syl Disjonk
Shot on RED at Igor Studio in 2010, Montreal, Quebec, Canada
Thanks:
Fredérick Maheux
Pat Tremblay
Christo Lepovsky
Jocelyn Tremblay
Martin Blondeau
Thierry Demers
Éric Falardeau
Odrée Lapointe
Maggy Durand
Simon Lacroix
Karim Hussain
Fire Lewis
Special thanks: 
Zap Image
Cinépool
Alexandre Bouchard, Dany Etcheverry, Yanka Pelletier
2nd Skin t-shirt
In Your Face Productions
Back to the Syl Disjonk's weird, trash and experimental video selection