Voivod : Synchro Anarchy- Music video
This is a great honor for me to be the director for the 3rd time of a music video for my favorite band ever: Voivod. Thanks to the wonderful team that worked with me on this epic project.
WE ARE CONNECTED !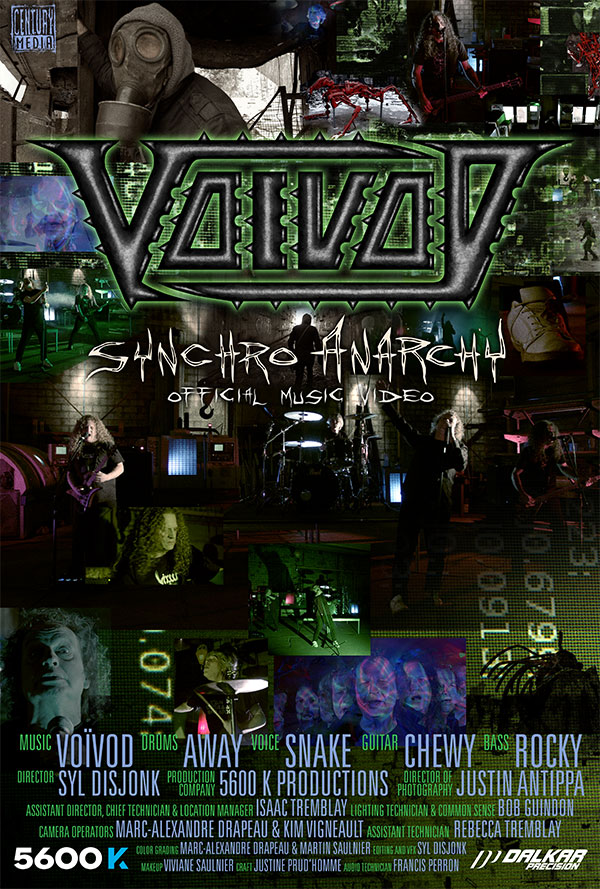 Credits:
VOIVOD – Synchro Anarchy (OFFICIAL VIDEO)
Taken from the Album "Synchro Anarchy", Out February 11th, 2022 Order now: https://voivodband.lnk.to/SynchroAnarchyID
Music: Voïvod
Lyrics: Denis "Snake" Belanger

Voïvod are:
Drums: Michel "Away" Langevin
Voice: Denis "Snake" Belanger
Guitar & backing vocalist: Daniel "Chewy" Mongrain
Bass & backing vocalist: Dominic "Rocky" Laroche

Daniel "Chewy" Mongrain is endorsed by Lapointe Amp, Bond Instruments, Dimarzio Pickups, Sophia tremolos, D'Addario Strings, Graph Tech guitar labs

Recording and mixing: Francis Perron at RadicArt Studio - Québec - Canada / https://radicart.net/ Mastering: Maor Appelbaum at Maor Appelbaum Mastering - California - U.S.A

Produced by Voïvod.
Video Director: Syl Disjonk
Production Company: 5600 K productions
Director of photography, camera & drone pilot: Justin Antippa
Assistant director, chief technician & location manager: Isaac Tremblay
Camera operators: Marc-Alexandre Drapeau & Kim Vigneault
Assistant technician: Rebecca Tremblay
Lighting technician & common sense: Bob Guindon
Makeup: Viviane Saulnier
Craft: Justine Prud'homme
Audio technician: Francis Perron
Editing and vfx: Syl Disjonk
Color grading: Marc-Alexandre Drapeau & Martin Saulnier
Wasteland chaosmönger: Syl Disjonk

Shot in Shawinigan, Quebec, Canada
Special thanks : Isaac Tremblay, Bob Guindon & Dalkar Precision, Martin Saulnier & 5600 K productions, James MacLean & Talk's Cheap Management, RadicArt Recording Studio, Leif Jensen & Century Media Records, Karine Mercier, Éric Massicotte, Turkoize Lemay Dostie, Long and McQuade, Audi-C Sonorisation, The Iron Gang.


Related internal links :
VOIVOD - The End of Dormancy- Official music video
VOIVOD - Kluskap O'Kom - Official music video
VOIVOD - Tribute video - WE ARE CONNECTED
Negatron tribute art to the art of Away (Voivod)
Back to the Syl Disjonk's weird, trash and experimental video selection